English Congregational Church, Ystradgynlais
The English Congregational Church in Ystradgynlais was built in 1907 and brought into a joint pastorate with the English Congregational Church, Ystalyfera in 1931.

From 'The Beginnings of our Congregation' by John Partridge comes this account of the origins of the English Congregational Church in Ystradgynlais.
It was noted that there were a few English families living in Cwmgiedd and since it was too far for them to attend Ystalyfera, the minister was asked to give services in one of the Welsh Chapels nearby, repeating what had happened in Ystalyfera, and this initiative probably showed a need for Ystradgynlais church.

On September 31st 1931, the Rev M Phillips, minister of Ystalyfera became minister of Ystradgynlais English Congregational Church, thus forming a joint pastorate. His salary was £5-00, £3-00 from Ystalyfera and £2-00 from Ystradgynlais. The rate has continued when sharing expenses.
Melville Phillips continued as joint pastor of Ystalyfera and Ystradgynlais until his retirement in 1952.
As the following article from 'The South Wales Voice' 24th June 1950 makes clear, the Ystradgynlais chapel had been built in 1907 and had had its own minister until Pastor Melville united both Ystradgynlais and Ystalyfera in a joint pastorate.
The present chapel was completed in 1907 and was the first English chapel in Ystradgynlais. During the past 43 years there have been 5 ministers at the chapel, the first being Rev T. Illtyd James, he was followed by Revs Edward Vaughan, D J Williams and D T Evans; the Chapel is now ministered by Rev Melville Phillips Ystalyfera.

It is to the credit of a small but faithful band of workers that the cause has been kept going over so many years and a worthy announcement to be made at the services is that for the first time in its history the chapel is free of debt.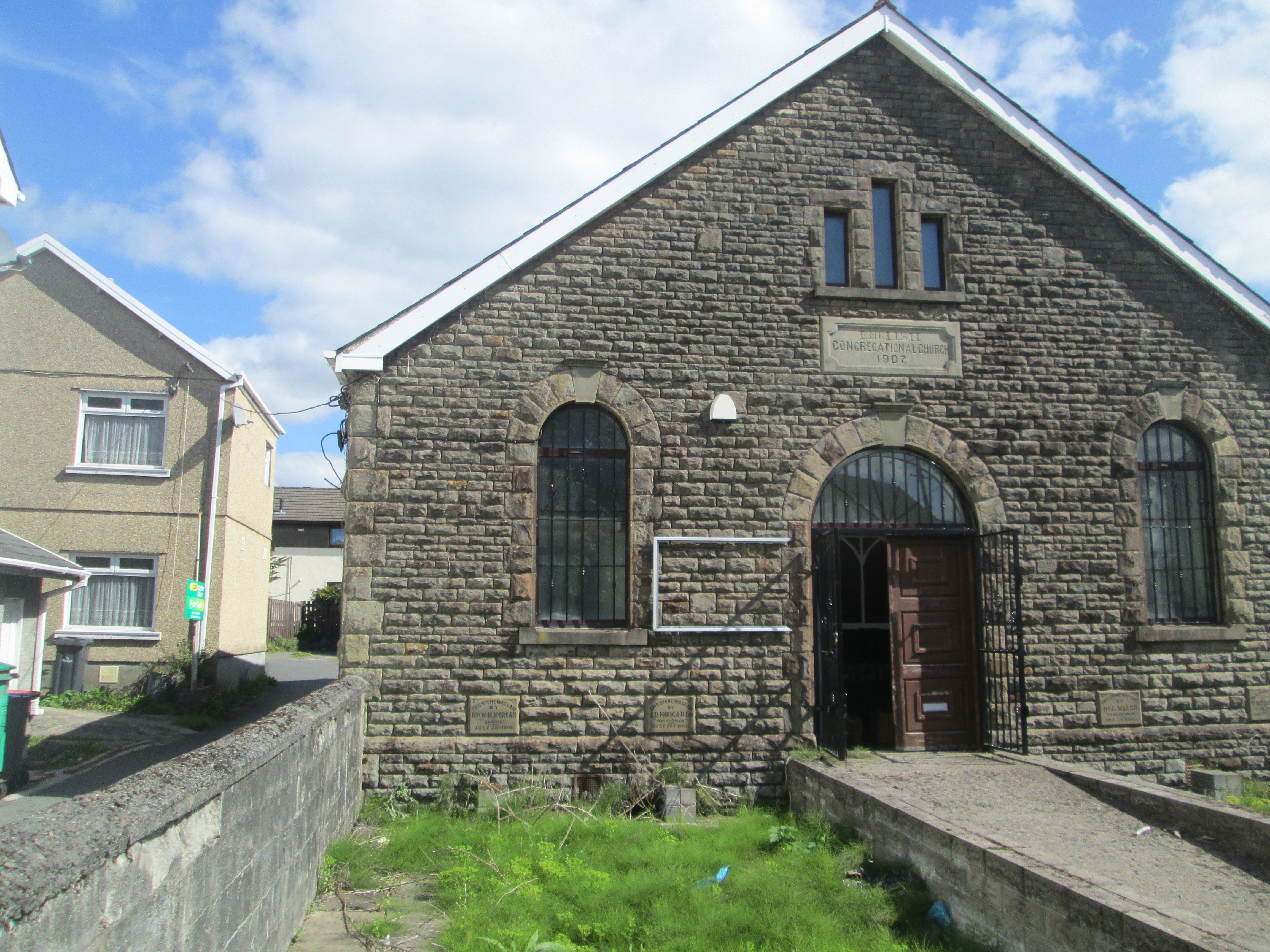 The English Congregational Church in Ystradgynlais is now a storehouse. We see it here in 2018.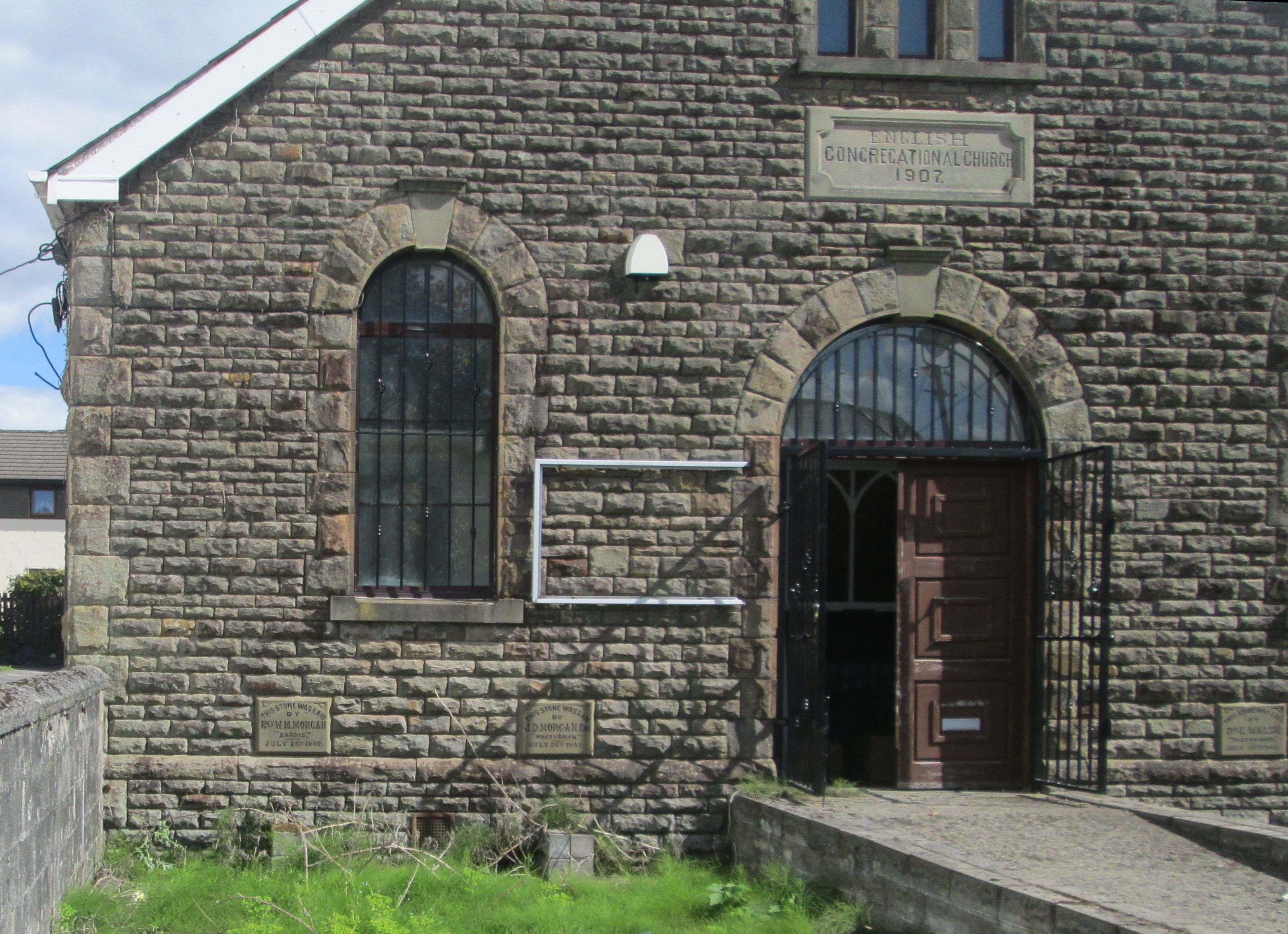 The foundation stones at the bottom include one stating "This stone was laid by Rev W M Morgan Sardis July 25th 1907" - click the picture to view it



This Stone Was Laid By
Rev W.M. Morgan
Sardis
July 25th 1907




This Stone Was Laid By
J.D. Morgan, Esq
Maesybryn
July 25th 1907




This Stone Was Laid By
Dr E. Walsh
Plas-Yr-Onen
July 25th 1907




This Stone Was Laid By
T. Williams, Esq
Cynlais Stores
July 25th 1907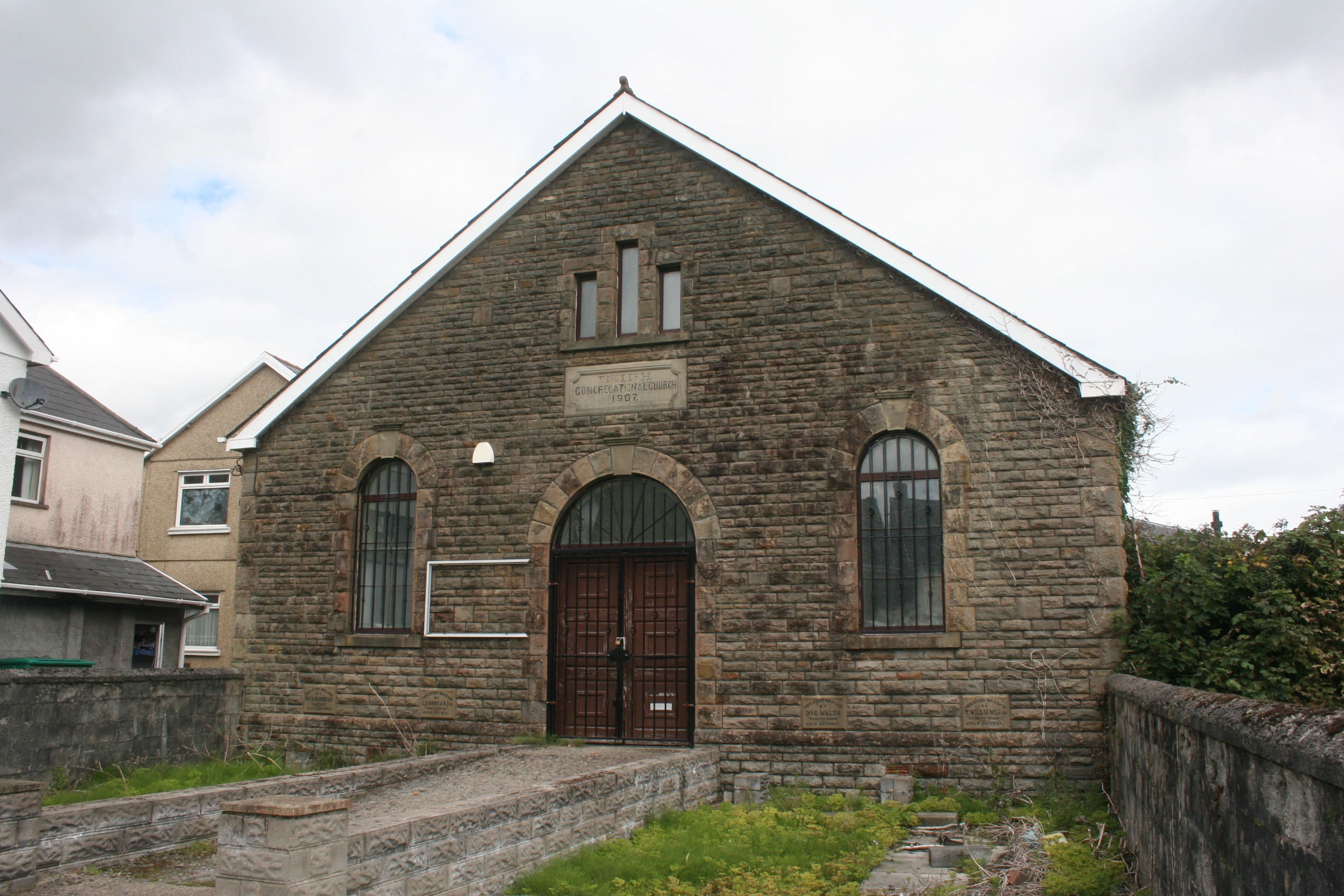 ---
Ministers of the English Cong, Ystradgynlais
The Labour Voice newspaper, 4th March 1922 contained information on the funeral of the Rev Illtyd James:-
DEATH OF FORMER YSTRADGYNLAIS PASTOR

It is with deep regret we have to announce the death of the Rev Illtyd James, which took place at Talgarth last Friday week. The funeral took place the following Tuesday. The Rev T G Davies, Tredwstan and G Ifor Jones, M.A., Rector of Llanfilo, officiated at the funeral assisted by Prof J Evans, B.A., Brecon Memorial College, Rev W H Price, Talgarth, Rev J Glyn Williams, Usk, and Mr Benjamin James, who represented Saron Congregational Church, Troedyrhiw, the church of the deceased's boyhood. References were made to the deceased's itegrity and unfailing zeal and efforts to further the work of the church.
The mourners included:- Mrs Lydia James (widow); Mr and Mrs W Ernest Rees, Ystradgynlais (daughter and son-in-law); Mr and Mrs J Morgan, Troedyrhiw (sister and brother-in-law); Mrs W Jenkins, Quakers Yard; Mrs M James, Troedyrhiw; Mrs W Thather; Mrs Jones (nieces) and Messrs T James, J Howells and R Jones (nephews).
There was a large number of beautiful floral tributes, including the following: From Widow, son and daughter; the staff of Maesydderwen County School; Pupils of Maesydderwen County School; Pupils of Batile School; Friends at Tynmawr and Trallong; Friends at Llanelly; friends at Glanysci Villa; Mr and Mrs Jones, New Buildings.
The Rev Illtyd James commenced his ministry at Llantwit Major, and subsequently held several poastorates in this country and in the United States. In 1910 he took charge of the English Congregational Church, Ystradgynlais. During the war he worked with the YMCA, as a chaplain at some of the largest camps in the country.
The South Wales Voice newspaper of Saturday 29th November 1930 recalls the farewell given to the Reverend and Mrs D T Evans upon their leaving Ystradgynlais after 3 and a half years there:-
LEAVING YSTRADGYNLAIS
TRIBUTES TO REVEREND D T EVANS AND MRS EVANS
AT FAREWELL MEETING

There was a large audience at the farewell meeting of the Reverend and Mrs D T Evans, English Cong Church, Ystradgynlais, on their departure to Markham Holly Bush, Newport, Monmouthshire. The Reverend Melville Phillips, Ystalyfera, presided and the meeting was opened by the recicitation of the 120st Psalm by Miss Brenda Stephens. Recicitations were also given by Miss Laura Rees, and Mrs Nancy Evans.
The devotional part was taken by the Reverend W S Rowe, Calfaria.
The chairman said that Mr Evans had spent 3 and a half years at Ystradgynlais, this being his first church. There was something different in the first charge of a pastor from that of subsequent charges. There was a close relationship which would remain in his thoughts all his life. During the three years Mr Evans had been in Ystradgynlais, he had made a large circle of friends and it was not possible for a man to live among friends and not feel the wrench of parting.
Mr William Stevens, secretary of the church, expressed regret at the departure of Mr and Mrs Evans. He felt sure that the loss of Ystradgynlais would be the gain of Newport. Whatever loss, it behoved the members to do their best to carry on the good work. He wished Mr and Mrs Evans success in their new sphere of labour.
Mr Thomas King, deacon at English Cong, referred to the warm friendship that existed between Mr Evans and himself. Mr Evans had worked hard in the interest of the church and it was not himself if he had not pleased everybody. The influence of his work would be of material benefit to the church and district. Mr Evans had gained a wider and deeper experience and this would be of great help to him in his new sphere. All churches should do the most of their ministers and appreciate their efforts. It was a well-known fact that this was not always done. A minister could not be expected to give of his best when he was not supported.
Mrs Ben Thomas, Kirkwood, Station Road, then handed to Mr and Mrs Evans a beautiful cabinet on behalf of the church members and expressed her best wishes for the future.
Responding for Mrs Evans and himself, Mr Evans paid a tribute to the local churches for the way they had received him. He had made friends and he had been greatly helped by the local ministers, who had been real friends of his. He thanked all for the help they had given him during his stay amongst them.
Recerend D J Moses, BA, Sardis, said the departure of Mr Evans would be a loss to the place and also to the Welsh churches, for Mr Evans had always been ready to help them. Others who spoke were Reverends Aman Jones, Ystalyfera; Sol. W James, Ystradgynlais; E T Evans, BA, Ystalyfera; and W S Rowe, Calfaria.
Verses composed for the occasional were read by Mr Howell Powell, Cwmgiedd.
Mr Idris Morris presided at the organ.